Your Happy Wall
Your gallery wall should be filled with all of the pieces of art that you love, it should  create an interesting focal point, and help to tie your design scheme together.
With such a wide variety of artistic styles to consider, many people find it difficult to select the right pieces of art for their space. This guide will help you to create the perfect gallery wall for you.
1. Measure
Measure the width and height of the wall where you would like to display your art, this could be above your sofa, a console table, office desk, or anywhere else you would like to display your art. This will allow you to choose the number of pieces you would like as well as the perfect sizes to fit your space. If your gallery wall is going to be displayed above your furniture, be sure to leave a gap of at least 6 inches above the piece (but don't hang your art too high). A good rule of thumb is to measure approximately 59 inches up from the floor, this should mark the centre line of your first piece of art, work your way up from there. Make sure you use a spirit level when marking the wall, to ensure you have a straight line.
2. Selecting Art
Choose pieces that make you feel happy inside. Usually, these are the pieces that you're immediately drawn to, and have a colour pallette that you love. You might also want to consider pieces which tie in with your current colour scheme. You could try selecting one or two pieces with those colours along with other contrasting tones for impact. Digital downloads are a great option when selecting art for your gallery wall, as they give you the flexibility to print your art in a variety of sizes. Take a look at my store Inspiration Abstracts for downloadable art options.
3. Be Bold
Be brave with your selection of pieces, and don't be afraid to mix abstracts with florals, minimalist with mid century modern, and colour with monochromatic tones. Your gallery wall should be personal to you.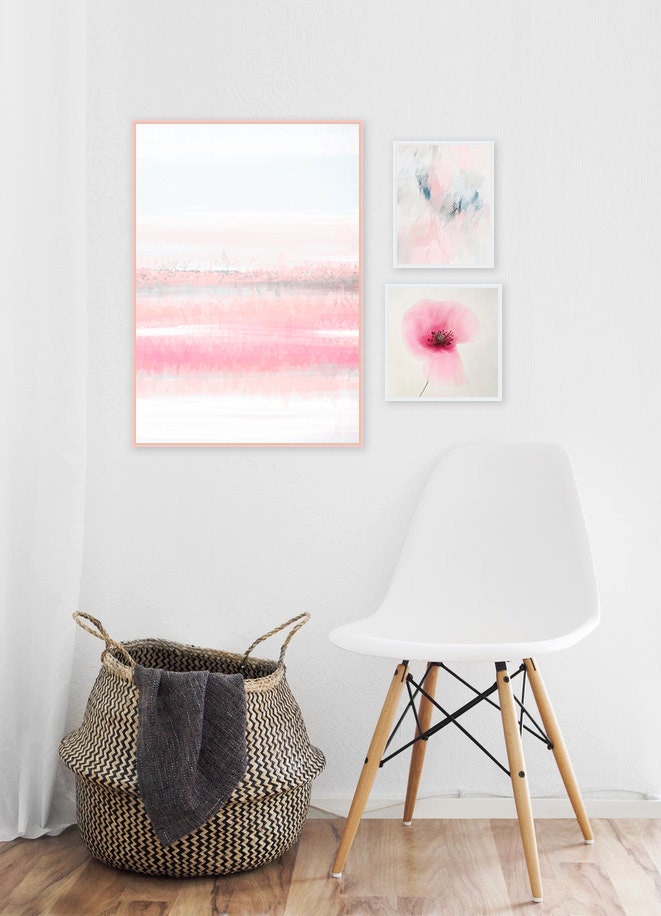 4. Add a Personal Touch
Add your favourite photographs, travel pictures, or your favourite family photos, different styles of frames, decorative mirrors and sculptures. The more pieces you include, the better it will be! You can find beautiful, printable photographs here.
5. The Perfect Layout
Once you're happy with all of the pieces you've chosen, lay them all out on the floor. Start with your favourite piece in the center, and work your way out from there. Play with different layouts taking pictures of each one, choose the layout you're happiest with and prepare to hang your art.
6. Hanging Your Art
You will need a spirit level, a hammer, a tape measure, nails, wire and pencil. Refer to the photograph of your chosen layout and select the first piece of art you're going to hang. It's best to start with the bottom piece first. This will allow you to arrange your gallery wall without running out of space. For the most pleasing display, It's best to leave a gap of around 3 - 4 inches between each artwork as this will give your wall a more uniform feel.
7. Love it
Once you've hung all of your pieces, stand back and admire your beautiful gallery wall!
If you're looking for more inspiration and you would like to take all of the hassle out of creating your perfect gallery wall take a look at these curated collections (printable gallery walls and printed and framed gallery walls). 
Thanks so much for reading!